National Bikini Day is nearly upon us, conveniently falling on a Saturday which (fingers crossed) means that I can celebrate it in style on Brighton beach (well more Hove beach, possibly the one Hubs popped the question on!).
Now, when it comes to bikinis there are two types of people, those who will wear one, and those who react with fear at the mere mention of the word. I am/used to be one of the later. I do not have a bikini bod, I'm not one of these slightly shy girls that are just saying it either. However I used to be a lot bigger so a few years ago after getting to my current size, and being very happy, I took the plunge and bought a bikini for a family holiday to the villa.
The most important thing about bikini shopping, no matter your size/shape is that you find one that you feel confident in. Not all of us will look great in a small string bikini, I for one need something that will support the ladies. Also I prefer higher waisted bikini bottoms – Not necessarily the ones that only show off the upper torso, but high enough to hold my tummy in because this is where I am most conscious.
There are also an array of fantastic cover ups; kaftans, sarongs, kimonos, old band t-shirts and even boyfriend shirts, so if (like me) you aren't quite ready to reveal your bikini'd self to the whole world, you can cover up until you pluck up the courage.
I think one thing that really helped me take the plunge and go out looking for what I needed/suits me was a blog post written by Callie at From the Corners of the Curve about her in a 'Fatkini' (see below). It made me realise that wearing a bikini should not be about anyone other than me and how I feel in it. Once I saw this picture of Callie with a massive smile on her face I realised that her sheer confidence and DILLIGAF attitude is what makes her so beautiful, I guess for those of us who aren't as body confident we have to to fake it until we make it, BUT that does not mean we have to let our fear of what strangers think of us get in the way of donning a bikini.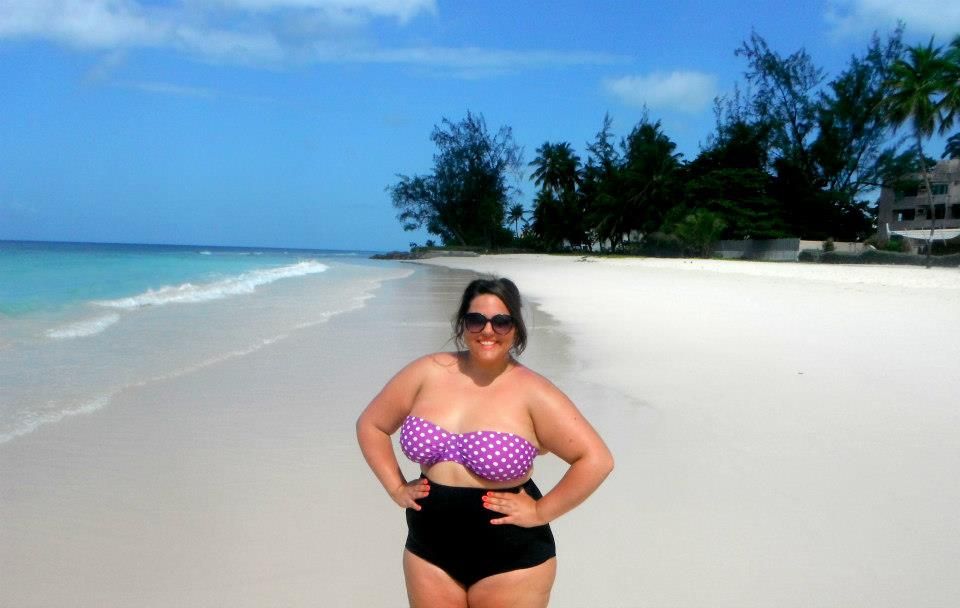 Swimwear365 are celebrating the ever more popular National Bikini Day by hosting competitions, dishing out fabulous tips on how to wear a bikini and helping us get ready for our summer holidays.
Are you a bikini barer?
Like what you see? You can follow me here: